---
Disclosure :
This site contains affiliate links to products. We may receive a commission for purchases made through these links.
---
Headline It! Wig Liner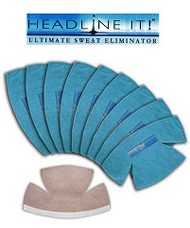 Headline it! is a thin disposable liner that affixes securely inside any wig to form a protective, breathable barrier. Each package consists of 10 disposable sweat elimination liners. The individually wrapped packages are small enough to take with you anywhere and discretely packaged for your convenience. The nude back layer is great for camouflaging the liner under wigs and headwear. The unique combination of micro-fiber materials are engineered specifically for your needs to stay dry and comfortable. The moisture transport system quickly draws perspiration away from the skin, wicking it into the transport layer. An essential product for any wig wearer!