---
Disclosure :
This site contains affiliate links to products. We may receive a commission for purchases made through these links.
---
18 inch Circle Extensions by How LuxHair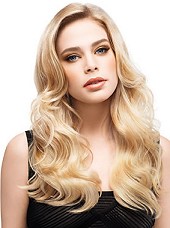 No Clips, No Glue, No Tape, No Bonds. How by Luxhair brings you the Hair you've always dreamed of. This innovative and easy to use headband extension is comfortable & quick to use. To wear: 1. Slip extension over your head with the extension at the back of your head 2. Position band like a hairband 3. Gently pull top & sides of your hair over band & blend with the extension.