---
Disclosure :
This site contains affiliate links to products. We may receive a commission for purchases made through these links.
---
Tangle Teezer Aqua Splash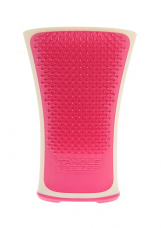 Introducing ?Aqua Splash?- the water-loving, detangling hairbrush and the latest innovation from Tangle Teezer. Especially designed to remove knots and tangles effortlessly and painlessly- the Aqua Splash Tangle Teezer saves wet hair and glides through it to leave it smooth, sleek and tangle-free. Use it with shampoo and hair conditioning treatments, in the shower, after a swim, at the beach or at the gym. – Upright design with unique drying feet allows water to drain quickly after use. – Lightweight, ergonomic body to ensure a firm, non-slip grip, making it easy to use in water. -Wide surface area detangles hair efficiently and distributes condititioners and treatments evenly, prepping the hair for blowdrying and heat-styling.